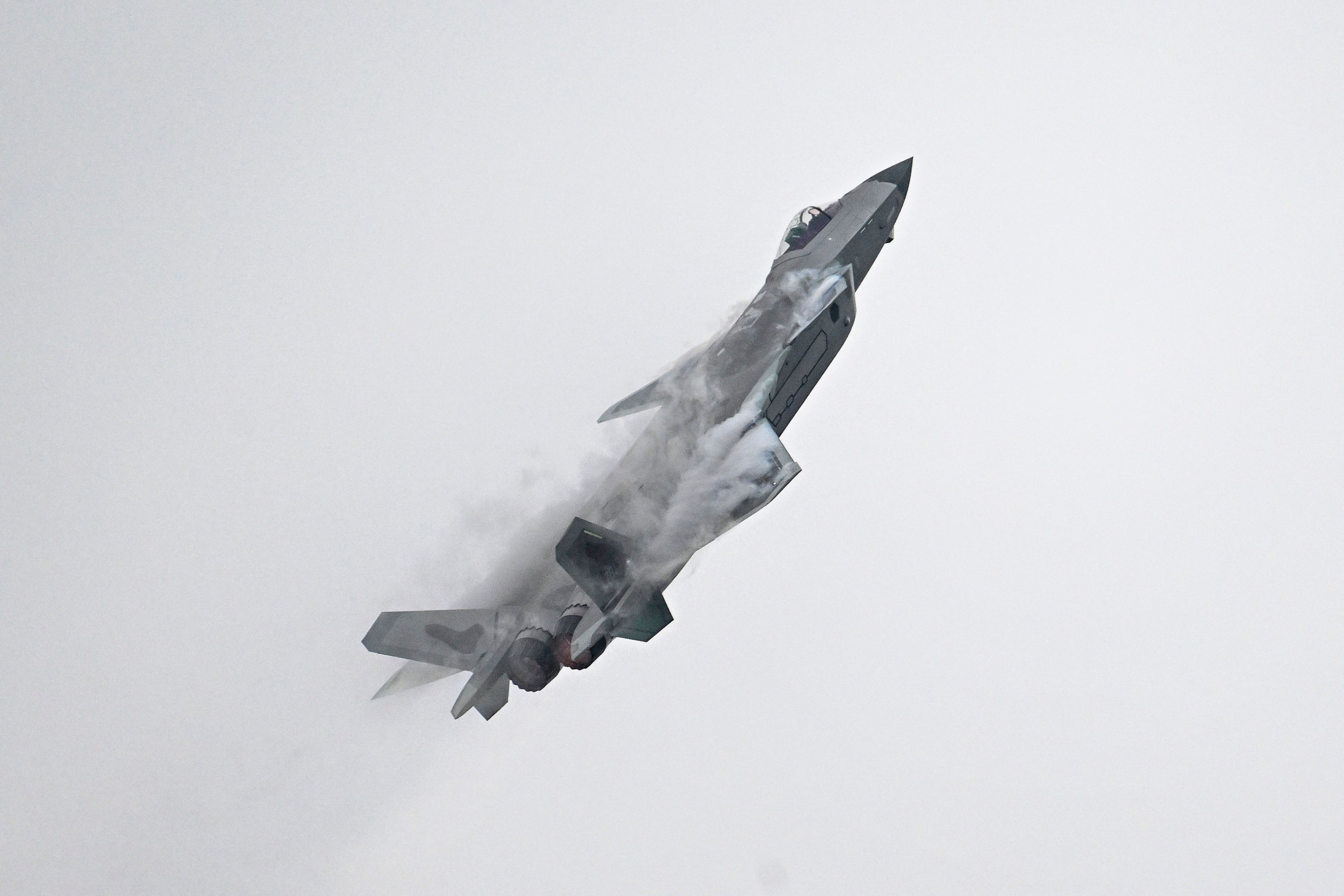 Pentagon policy chief Colin Kahl has sought to tamp down speculation about an imminent invasion of Taiwan by China, saying Beijing's forces have "a lot of work to do" before attempting what would be one of the most difficult military campaigns in modern history.
China claims the island as its own and has vowed to unify it by force if necessary, while Taiwan, whose occupants have no desire to be ruled by Beijing, says it would defend itself alone to preserve its hard-won democratic freedoms.
Beijing's designs on Taiwan were thrust into the international spotlight in early August when a visit to Taipei by House Speaker Nancy Pelosi triggered an unprecedented response from China. It launched ballistic missiles near and over the island and simulated blockades of major Taiwanese ports.
Intense air and naval patrols in and around the Taiwan Strait, a major shipping route that separates the two countries, have continued largely unabated in the months since.
Kahl, the Pentagon's undersecretary of defense for policy, said at a November 4 Brookings Institution event, that China won't invade Taiwan in the near term. Instead, Beijing will try to coerce Taipei into accepting its terms, using all means short of war, while also putting pressure on the international community to cut its support for the island.
"I don't think in the next couple of years they're likely to invade Taiwan. But you never know," Kahl said during a discussion about the Biden administration's recently published national defense strategy.
"I don't think that Xi Jinping has made a decision to force reunification. But he has certainly given his military the charge to have that capability by the end of this decade and probably by 2027," he said, referring to the People's Liberation Army's (PLA) centennial.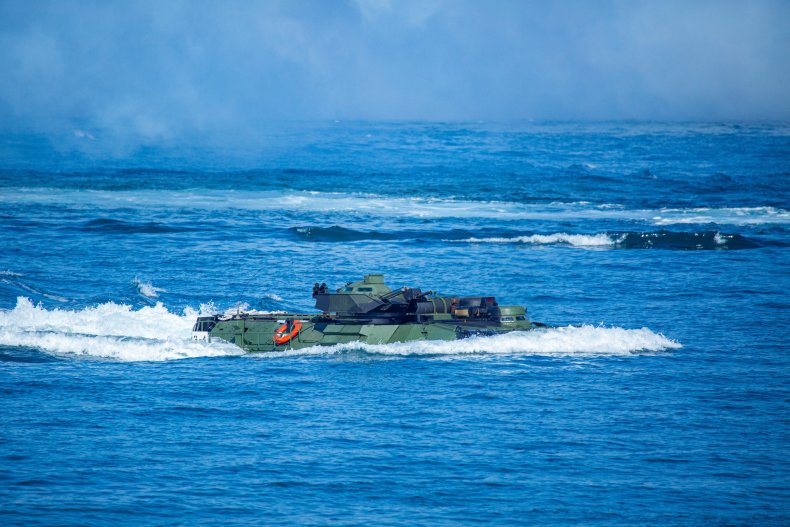 Xi, China's president, has embarked on military reforms since 2015 to bring the PLA under his centralized command. He has earmarked 2027 for the completion of force modernization and 2049—the centennial of the People's Republic of China—to achieve a "world-class" military.
But Xi's deadlines aren't linked to the unification of Taiwan, Kahl said. "Again, not because a decision has been made to launch an amphibious invasion but so his military has the capability to execute that, were he to make that decision."
Twice in October, Secretary of State Antony Blinken said Beijing was seeking to accelerate a takeover of Taiwan. But two days before Kahl spoke at the Brookings event, Jing Quan, a minister at the Chinese Embassy in Washington, dismissed talk of an invasion timeline.
"Some people are talking about five years, 10 years, 2035, 2049. I don't think so," Jing said at an event hosted by the Institute for China-America Studies. "We want to get united as soon as possible, but we don't have any timeline.
"We don't want to use force, but at least that we should have the capability to deter and prevent the worst-case scenario, that is Taiwan independence," he said.
How Would U.S. Respond?
The potential response of the United States and its allies to the next Taiwan Strait crisis is the major variable for Chinese military planners. Officially, Washington holds an ambiguous position, neither committing to nor ruling out a defense of Taiwan if it is attacked.
President Joe Biden, however, has said publicly on at least three occasions that he would intervene with U.S. troops, each time undercutting a White House attempt to walk back his remarks. Meanwhile, subject matter experts believe Beijing is already preparing for a conflict involving U.S. forces.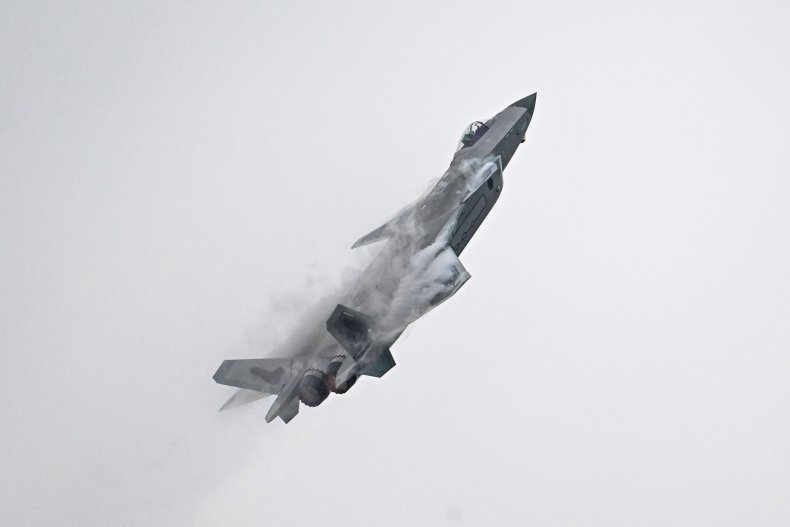 The PLA's modernization has been "breathtaking," Kahl said. "They have built their entire military around being able to come after the United States in a contingency. We have been their pacing challenge for a long time, and they have constructed their military around that."
The U.S.-China power gap has closed in the past 20 years, he said, "but no one should doubt that the United States is the most capable military in the world. I don't think China doubts that, actually. I think China is quite aware of our capabilities."
China hasn't fought a war since 1979, Kahl said, adding, "The type of conflict they're contemplating [over Taiwan], nobody has really fought.
"If you're really thinking about an amphibious invasion scenario, this is literally the hardest thing for any military to do, logistically and in terms of execution," he said. "My suspicion is Xi Jinping probably thinks his military still has a lot of work to do."
Pentagon policy chief Colin Kahl has sought to tamp down speculation about an imminent invasion of Taiwan by China, saying Beijing's forces have "a lot of work to do" before attempting what would be one of the most difficult military campaigns in modern history.China claims the island as its own and has vowed to unify it by force if necessary, while Taiwan, whose occupants have no desire to be ruled by Beijing, says it would defend itself alone to preserve its hard-won democratic freedoms.Beijing's designs on Taiwan were thrust into the international spotlight in early August when a visit to Taipei by House Speaker Nancy Pelosi triggered an unprecedented response from China. It launched ballistic missiles near and over the island and simulated blockades of major Taiwanese ports.Intense air and naval patrols in and around the Taiwan Strait, a major shipping route that separates the two countries, have continued largely unabated in the months since.Kahl, the Pentagon's undersecretary of defense for policy, said at a November 4 Brookings Institution event, that China won't invade Taiwan in the near term. Instead, Beijing will try to coerce Taipei into accepting its terms, using all means short of war, while also putting pressure on the international community to cut its support for the island."I don't think in the next couple of years they're likely to invade Taiwan. But you never know," Kahl said during a discussion about the Biden administration's recently published national defense strategy."I don't think that Xi Jinping has made a decision to force reunification. But he has certainly given his military the charge to have that capability by the end of this decade and probably by 2027," he said, referring to the People's Liberation Army's (PLA) centennial. A Taiwanese amphibious assault vehicle surfaces during the annual Han Kuang military exercise, which simulates a Chinese invasion, on July 28 in Pingtung, Taiwan. The Pentagon's undersecretary of defense for policy said recently that China won't invade Taiwan in the near term. Annabelle Chih/Getty Images Xi, China's president, has embarked on military reforms since 2015 to bring the PLA under his centralized command. He has earmarked 2027 for the completion of force modernization and 2049—the centennial of the People's Republic of China—to achieve a "world-class" military.But Xi's deadlines aren't linked to the unification of Taiwan, Kahl said. "Again, not because a decision has been made to launch an amphibious invasion but so his military has the capability to execute that, were he to make that decision."Twice in October, Secretary of State Antony Blinken said Beijing was seeking to accelerate a takeover of Taiwan. But two days before Kahl spoke at the Brookings event, Jing Quan, a minister at the Chinese Embassy in Washington, dismissed talk of an invasion timeline."Some people are talking about five years, 10 years, 2035, 2049. I don't think so," Jing said at an event hosted by the Institute for China-America Studies. "We want to get united as soon as possible, but we don't have any timeline."We don't want to use force, but at least that we should have the capability to deter and prevent the worst-case scenario, that is Taiwan independence," he said.How Would U.S. Respond?The potential response of the United States and its allies to the next Taiwan Strait crisis is the major variable for Chinese military planners. Officially, Washington holds an ambiguous position, neither committing to nor ruling out a defense of Taiwan if it is attacked.President Joe Biden, however, has said publicly on at least three occasions that he would intervene with U.S. troops, each time undercutting a White House attempt to walk back his remarks. Meanwhile, subject matter experts believe Beijing is already preparing for a conflict involving U.S. forces. A Chinese J-20 stealth fighter of the People's Liberation Army performs at the Airshow China 2022 on Tuesday in Zhuhai. CNS/AFP via Getty Images The PLA's modernization has been "breathtaking," Kahl said. "They have built their entire military around being able to come after the United States in a contingency. We have been their pacing challenge for a long time, and they have constructed their military around that."The U.S.-China power gap has closed in the past 20 years, he said, "but no one should doubt that the United States is the most capable military in the world. I don't think China doubts that, actually. I think China is quite aware of our capabilities."China hasn't fought a war since 1979, Kahl said, adding, "The type of conflict they're contemplating [over Taiwan], nobody has really fought."If you're really thinking about an amphibious invasion scenario, this is literally the hardest thing for any military to do, logistically and in terms of execution," he said. "My suspicion is Xi Jinping probably thinks his military still has a lot of work to do."