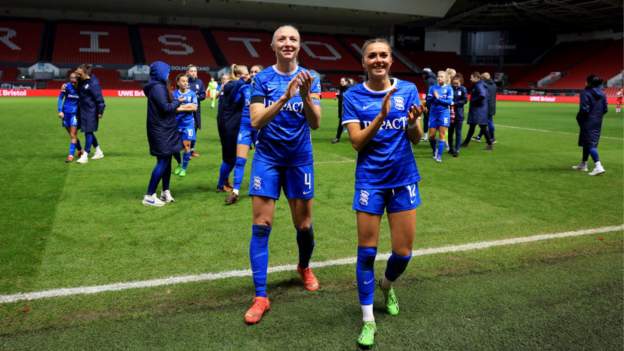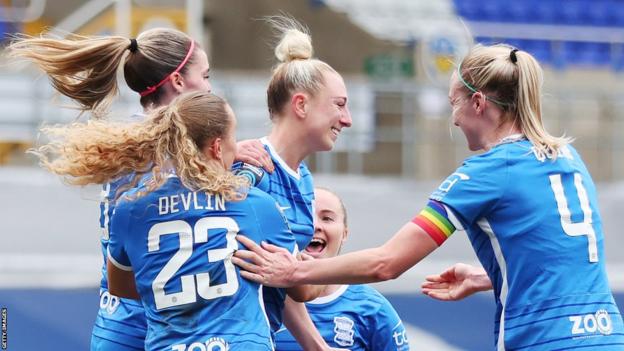 Upsets have been in short supply in the Women's FA Cup this season. Just one WSL side has been knocked out by a team from a lower division.
That came when Birmingham City beat Everton in the fourth round – and Darren Carter's team will aim to repeat the trick on Sunday when they welcome Brighton in the quarter-finals.
"We can take huge confidence from our performance in that game," Carter told BBC Sport.
"They were a form team and we implemented our game very well, stopped them and capitalised in the moments we had.
"If you can showcase that against good teams, it means you know you can hit those levels. If we do that we have a chance."
Jade Pennock scored the winner against Everton in late January, and said that result has given Birmingham belief they can reach the final four.
"It was massive for us," she said. "It'll give us confidence going in there knowing we are capable. No matter the opposition, we have a chance."
An FA Cup run has provided a welcome boost for Birmingham after a difficult few seasons, the nadir coming with relegation last season following 11 years in the WSL, of which they were a founder member.
Players publicly protested at issues regarding facilities and resources, while a lack of investment and support from the board led to three managerial changes in 12 months.
The last managerial change saw former Birmingham men's midfielder Carter installed in December 2021, initially as caretaker and then on a full-time basis.
Carter was retained following relegation and has acknowledged it will take a lot of work to get back in the WSL.
'Our Achilles heel has been consistency'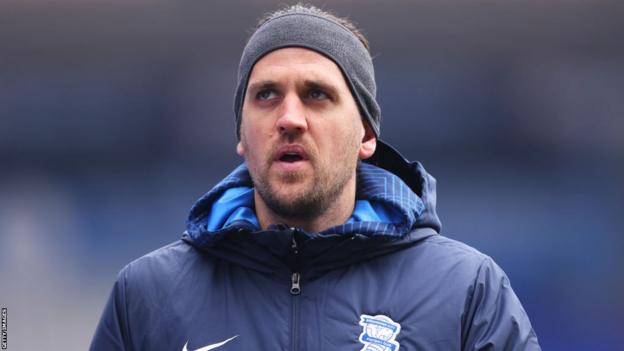 "I could see a lot needed to change, there was a narrative around the team, a lot of negativity," said Carter.
"Going down kicked a few people into realising a rebuild was needed. As soon as I got the green light to continue it was about bringing the team back to successes of seasons gone by.
"Women's football is growing, so we have to move with times as well."
Several players, such as Pennock, were convinced to stay and fight to get Birmingham back to the top tier, while others such as Wales international midfielder Charlie Estcourt were brought in to shore up the squad.
Estcourt told BBC Sport: "We all know it is a rebuild year, to get us in the best position for promotion.
"The demands are different, so it is a learning curve to build for next season. We can aim for promotion next season, as this year it's out of our hands now.
"The FA Cup has given us a lot of confidence as a squad, it shows what we can do if we find consistency."
A lack of consistency has kyboshed Birmingham's hopes of an immediate return to the top flight. Eight league wins have been diluted by five defeats, leaving them 13 points behind leaders Bristol City in the only Championship promotion place with seven games remaining.
"Our Achilles heel has been consistency," added Carter. "We've had some excellent performances, but have left ourselves a lot to do in the league.
"We have grown as a team this year and learned a lot. We've dominated the ball a lot, which we didn't do in the WSL, but with that comes teething problems.
"It's a process and you have to suffer a bit, but we have grown."
'I've not won both at the same time before!'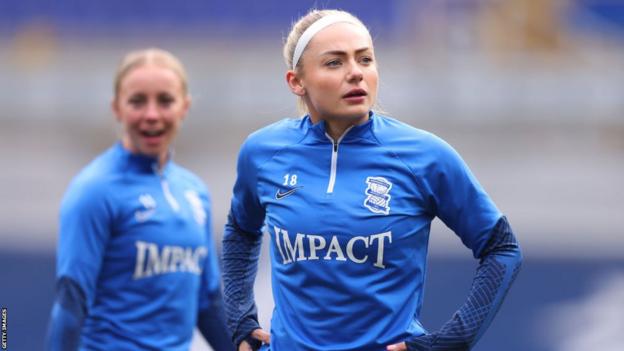 The FA Cup has provided something of a salve for Birmingham, as they aim to repeat the heroics of 2012 when they beat Chelsea in the final on penalties at Ashton Gate.
Details of that game represent a stark reminder of just how women's football was treated until very recently. Broadcasters Sky Sports moved the penalty shootout to their red button service to not disrupt scheduled programming, while half-time entertainment was provided by The Risk, a boy band which had finished 10th in the most recent series of The X Factor.
However, there are some links to that game which Birmingham treasure. Jo Potter, a key player in the cup-winning side, is now Carter's assistant manager.
"She is someone who has been there, done that, got the t-shirt," Carter said of his number two.
"Having Jo there, when she talks the players listen, she has their utmost respect.
"She has shared memories of the day, and the lasting memories it gives you. Players can see how special it was through her."
Estcourt agrees that Potter helps provide added motivation.
"This club has history in the FA Cup, we are aware of that success in past, that gives us extra motivation," said Estcourt.
"It's great to have her [Potter] and her experience to learn from in dealing with bigger matches."
As the current generation looks for Birmingham heroes, they may well look to Pennock, who was named Championship Player of the Month and also Goal of the Month winner for March on Friday.
"I've not won both at the same time before!" she said. "It boosts my confidence, I just want to help the team as best as I can.
"At the start of the season we set goals of what we wanted to achieve. Going far in the FA Cup is one of them."


A 61st minute goal from Jade Pennock (centre) saw Birmingham beat WSL side Everton in the FA CupUpsets have been in short supply in the Women's FA Cup this season. Just one WSL side has been knocked out by a team from a lower division.That came when Birmingham City beat Everton in the fourth round – and Darren Carter's team will aim to repeat the trick on Sunday when they welcome Brighton in the quarter-finals."We can take huge confidence from our performance in that game," Carter told BBC Sport. "They were a form team and we implemented our game very well, stopped them and capitalised in the moments we had."If you can showcase that against good teams, it means you know you can hit those levels. If we do that we have a chance."Jade Pennock scored the winner against Everton in late January, and said that result has given Birmingham belief they can reach the final four."It was massive for us," she said. "It'll give us confidence going in there knowing we are capable. No matter the opposition, we have a chance."An FA Cup run has provided a welcome boost for Birmingham after a difficult few seasons, the nadir coming with relegation last season following 11 years in the WSL, of which they were a founder member.Players publicly protested at issues regarding facilities and resources, while a lack of investment and support from the board led to three managerial changes in 12 months.The last managerial change saw former Birmingham men's midfielder Carter installed in December 2021, initially as caretaker and then on a full-time basis. Carter was retained following relegation and has acknowledged it will take a lot of work to get back in the WSL.'Our Achilles heel has been consistency'Darren Carter played in the Premier League for Birmingham and West Brom"I could see a lot needed to change, there was a narrative around the team, a lot of negativity," said Carter. "Going down kicked a few people into realising a rebuild was needed. As soon as I got the green light to continue it was about bringing the team back to successes of seasons gone by."Women's football is growing, so we have to move with times as well."Several players, such as Pennock, were convinced to stay and fight to get Birmingham back to the top tier, while others such as Wales international midfielder Charlie Estcourt were brought in to shore up the squad.Estcourt told BBC Sport: "We all know it is a rebuild year, to get us in the best position for promotion. "The demands are different, so it is a learning curve to build for next season. We can aim for promotion next season, as this year it's out of our hands now."The FA Cup has given us a lot of confidence as a squad, it shows what we can do if we find consistency."A lack of consistency has kyboshed Birmingham's hopes of an immediate return to the top flight. Eight league wins have been diluted by five defeats, leaving them 13 points behind leaders Bristol City in the only Championship promotion place with seven games remaining."Our Achilles heel has been consistency," added Carter. "We've had some excellent performances, but have left ourselves a lot to do in the league. "We have grown as a team this year and learned a lot. We've dominated the ball a lot, which we didn't do in the WSL, but with that comes teething problems."It's a process and you have to suffer a bit, but we have grown."'I've not won both at the same time before!'Charlie Estcourt was signed by Carter last summer as Birmingham try to return to the WSLThe FA Cup has provided something of a salve for Birmingham, as they aim to repeat the heroics of 2012 when they beat Chelsea in the final on penalties at Ashton Gate.Details of that game represent a stark reminder of just how women's football was treated until very recently. Broadcasters Sky Sports moved the penalty shootout to their red button service to not disrupt scheduled programming, while half-time entertainment was provided by The Risk, a boy band which had finished 10th in the most recent series of The X Factor.However, there are some links to that game which Birmingham treasure. Jo Potter, a key player in the cup-winning side, is now Carter's assistant manager."She is someone who has been there, done that, got the t-shirt," Carter said of his number two. "Having Jo there, when she talks the players listen, she has their utmost respect. "She has shared memories of the day, and the lasting memories it gives you. Players can see how special it was through her."Estcourt agrees that Potter helps provide added motivation. "This club has history in the FA Cup, we are aware of that success in past, that gives us extra motivation," said Estcourt."It's great to have her [Potter] and her experience to learn from in dealing with bigger matches."As the current generation looks for Birmingham heroes, they may well look to Pennock, who was named Championship Player of the Month and also Goal of the Month winner for March on Friday."I've not won both at the same time before!" she said. "It boosts my confidence, I just want to help the team as best as I can."At the start of the season we set goals of what we wanted to achieve. Going far in the FA Cup is one of them."The rise and fall of the jeweller-turned-criminal: Listen to Gangster: The Story of John PalmerLife-changing operations and difficult dilemmas: Watch Saving Lives in Leeds on BBC iPlayer now