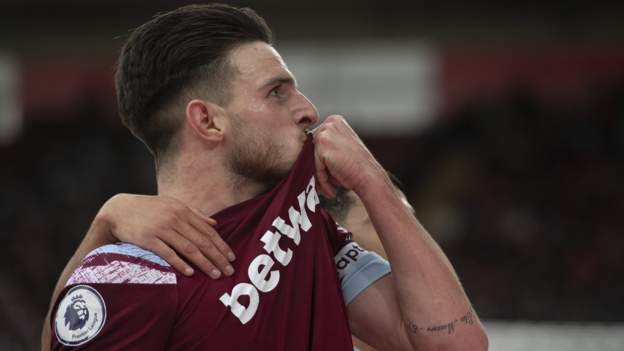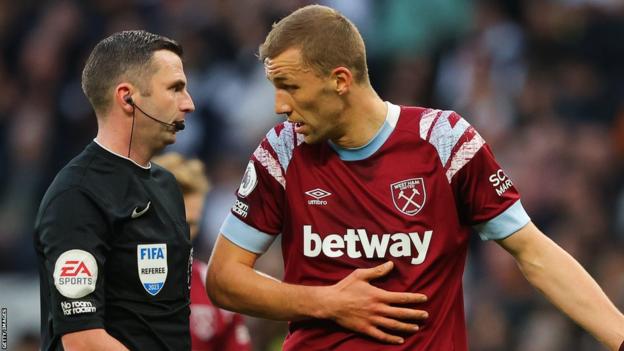 The government looks likely to agree a deal with the Premier League which would see gambling sponsors' names taken off the front of football shirts.
In that review of gambling legislation, the government is not expected to propose banning gambling sponsorship of clubs by law.
Instead, the BBC has been told the plan is for the Premier League to agree voluntarily to changes to the front of shirts.
It is believed top-flight clubs are yet to vote on this.
The plans, which were largely agreed by former Prime Minister Boris Johnson before he stepped down, leave the way open for gambling companies to continue their involvement with football.
Betting companies are still expected to be promoted in Premier League stadiums, and also on other parts of club shirts.
Eight of the 20 Premier League clubs display gambling firm names on the front of their shirts, though they are banned from junior replica kits.
Last month, Aston Villa's fan consultation group met CEO Christian Purslow after the club was reported to have signed a deal with Asia-based betting firm BK8. It later issued a statement saying "the commercial reality is that to teams outside the top six, such sponsors offer clubs twice as much financially as non-gambling companies".
The Premier League has previously said "a self-regulatory approach would provide a practical and flexible alternative to legislation or outright prohibition".
The BBC understands that, as the most influential and high-profile clubs in English football, the focus has been on the Premier League's relationship with gambling sponsors.
The English Football League (EFL), which is sponsored by Sky Bet, has previously said any outright gambling sponsorship ban for its 72 members would cost clubs £40m a year.
Campaigners for a wider ban say gambling sponsorship in football has normalised the industry, and that tighter regulation is needed to protect children and other vulnerable groups.
The Betting and Gambling Council, which represents the industry, said the "overwhelming majority" of the 22.5 million people in the UK who bet each month, do so "safely and responsibly".
It added the "rate of problem gambling remains low by international standards at 0.3% of the UK's adult population – down from 0.4% the year previous".
Former Conservative leader Iain Duncan Smith said: "At the moment, we are probably the country with the most liberal gambling laws in the world."
Duncan Smith is part of the All Party Parliamentary Group on gambling-related harm, which has as been lobbying the government for tougher protections.
He said betting company names need to come off football shirts entirely to "stop thousands of people wandering around as advertising".


West Ham are among the Premier League clubs to be sponsored by a gambling firmThe government looks likely to agree a deal with the Premier League which would see gambling sponsors' names taken off the front of football shirts.In that review of gambling legislation, the government is not expected to propose banning gambling sponsorship of clubs by law.Instead, the BBC has been told the plan is for the Premier League to agree voluntarily to changes to the front of shirts.It is believed top-flight clubs are yet to vote on this.The plans, which were largely agreed by former Prime Minister Boris Johnson before he stepped down, leave the way open for gambling companies to continue their involvement with football.Betting companies are still expected to be promoted in Premier League stadiums, and also on other parts of club shirts.Gambling: Government expected to tighten regulation on sectorListen – The Sports Desk podcast: Is it time for football to cut ties with gambling?Eight of the 20 Premier League clubs display gambling firm names on the front of their shirts, though they are banned from junior replica kits.Last month, Aston Villa's fan consultation group met CEO Christian Purslow after the club was reported to have signed a deal with Asia-based betting firm BK8. It later issued a statement saying "the commercial reality is that to teams outside the top six, such sponsors offer clubs twice as much financially as non-gambling companies".The Premier League has previously said "a self-regulatory approach would provide a practical and flexible alternative to legislation or outright prohibition".The BBC understands that, as the most influential and high-profile clubs in English football, the focus has been on the Premier League's relationship with gambling sponsors.The English Football League (EFL), which is sponsored by Sky Bet, has previously said any outright gambling sponsorship ban for its 72 members would cost clubs £40m a year.Campaigners for a wider ban say gambling sponsorship in football has normalised the industry, and that tighter regulation is needed to protect children and other vulnerable groups.The Betting and Gambling Council, which represents the industry, said the "overwhelming majority" of the 22.5 million people in the UK who bet each month, do so "safely and responsibly".It added the "rate of problem gambling remains low by international standards at 0.3% of the UK's adult population – down from 0.4% the year previous".Former Conservative leader Iain Duncan Smith said: "At the moment, we are probably the country with the most liberal gambling laws in the world."Duncan Smith is part of the All Party Parliamentary Group on gambling-related harm, which has as been lobbying the government for tougher protections. He said betting company names need to come off football shirts entirely to "stop thousands of people wandering around as advertising".Go Hard or Go Home: Eight Britons face brutal workouts and terrifying challengesWhy did Michaella McCollum try to smuggle £1.5m of cocaine? High: Confessions of an Ibiza Drug Mule