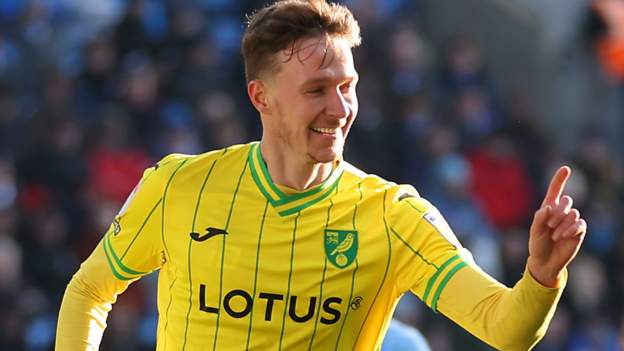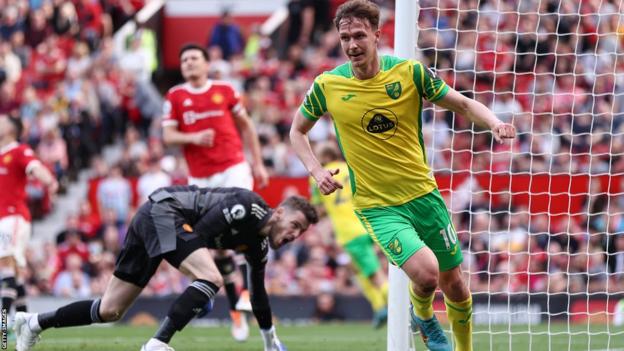 Norwich City midfielder Kieran Dowell is to join Rangers as a free agent when the summer transfer window opens next month.
The 25-year-old scored five goals in 26 appearances this season but has not played since February after suffering knee ligament damage.
He made 16 Premier League starts in the previous campaign as Norwich were relegated.
Dowell has agreed a three-year deal with the Scottish Premiership side.
The Everton academy graduate moved to Carrow Road in the summer of 2020 following loan spells with Nottingham Forest, Sheffield United, Derby County and Wigan Athletic.
An Under-20 World Cup winner with England in 2017, he was capped 17 times at under-21 level.
"I know a lot of Rangers fans and Scottish lads from my previous clubs, and they just speak so highly of Rangers – the intensity of it, the pressure of it – and that is a really good pressure as you are expected to win every game," Dowell told the Rangers website.
"There were so many positives for me to come here."
Rangers manager Michael Beale added: "It is fantastic, as a club, to be able to complete our first signing ahead of the summer break and I am excited to see what the future holds for Kieran at Rangers."
More to follow.

Our coverage of

Rangers

is bigger and better than ever before – here's

everything you need to know

to make sure you never miss a moment
Kieran Dowell's one Premier League goal came in a 3-2 defeat away to Manchester United in April 2022Norwich City midfielder Kieran Dowell is to join Rangers as a free agent when the summer transfer window opens next month.The 25-year-old scored five goals in 26 appearances this season but has not played since February after suffering knee ligament damage.He made 16 Premier League starts in the previous campaign as Norwich were relegated.Dowell has agreed a three-year deal with the Scottish Premiership side.The Everton academy graduate moved to Carrow Road in the summer of 2020 following loan spells with Nottingham Forest, Sheffield United, Derby County and Wigan Athletic.An Under-20 World Cup winner with England in 2017, he was capped 17 times at under-21 level."I know a lot of Rangers fans and Scottish lads from my previous clubs, and they just speak so highly of Rangers – the intensity of it, the pressure of it – and that is a really good pressure as you are expected to win every game," Dowell told the Rangers websiteexternal-link."There were so many positives for me to come here."Rangers manager Michael Beale added: "It is fantastic, as a club, to be able to complete our first signing ahead of the summer break and I am excited to see what the future holds for Kieran at Rangers."Visit our Rangers page for all the latest news, analysis and fan viewsYou can now get Rangers news notifications in the BBC Sport app – find out moreMore to follow.Our coverage of Rangers is bigger and better than ever before – here's everything you need to know to make sure you never miss a momentEverything Rangers – go straight to all the best content